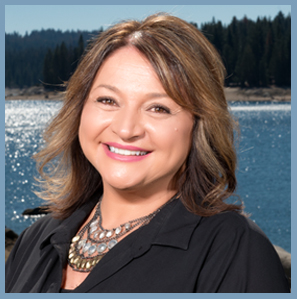 Phone:  (559) 304-6469
Fax:  (559) 354-0132
Lic. #01989167

My husband Mark and I married in Huntington Lake and have three beautiful children. We lived on a working vineyard farm in the Kerman area, where Mark grew up, for 17 years. In addition to the farm, I had a successful career in banking. During those years, Mark's family owned a cabin in the East Village. We spent many great times there with the family and looked forward to those trips to Shaver Lake.
In 2007, we decided to move our family to the mountains full time. So, we sold our farm and moved up! It is by far, the best decision we have ever made.
After moving to the area, I longed to work local and end my city "commute". Although it took another six years, I finally started working in Shaver Lake, managing cabin rentals and loved it. I have enjoyed this beautiful, quiet, slow paced and friendly community. In my second career, I am now a Realtor in the Shaver Lake area. My time in banking has helped me to understand the financial/banking aspect of purchasing a new home and I will use that experience to make the paperwork process a bit easier.
I am very excited and grateful to be on board with Pinnacle Real Estate and work with this awesome team of professionals. I am also fortunate to know Beth Brown/Broker on a personal level. She is my sister-in-law and I could not ask for a better mentor.
Stop by one of our offices, I would love to meet you and look forward to sharing our beautiful Shaver Lake with you.